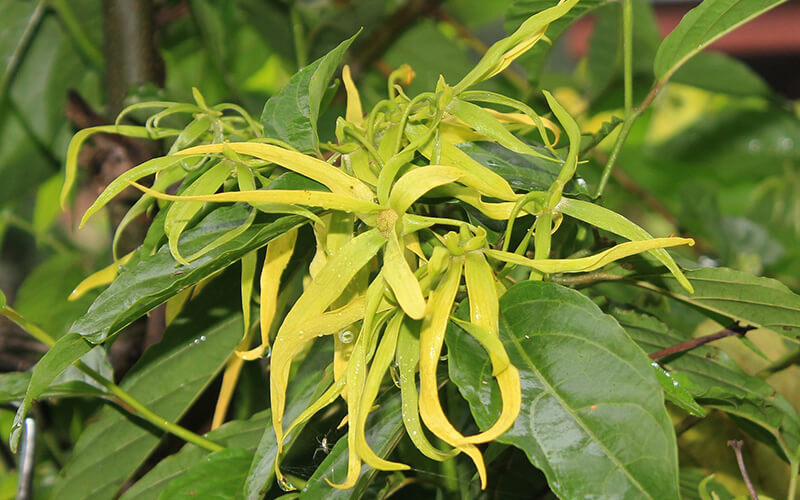 Essential Oil of the Month: Ylang Ylang Complete (Part 1)
The essential oil of ylang-ylang is an olfactory splendor behind its sweet fragrance, known aphrodisiac, is extremely effective in aromatherapy and cosmetics. Its singular notes are also appreciated for original culinary preparations and high in flavor !
AROMATHERAPY USES :
Broadcast to his voluptuous fragrance and its calming and soothing. Moment of pure relaxation! The good idea : the mix of the essential oil of mandarin, bergamot, lavender or sandalwood for its powerful musky notes quickly heady and unpleasant if broadcast only. Fabienne Millet wrote in The great guide essential oils : " Shaker (olfactory regulation of behavior). A study of 40 people showed that after transdermal penetration, the essential oil ylang-ylang brings down the skin temperature, breathing and heart rate and blood pressure, four factors involved in stress. This essential oil provides better stress management causing a relaxing effect " 'Relaxing effect of ylang ylang oil on humans after-transdermal absorption.' Hongratanaworakit T. Buchbauer G. Srinakharinwirot University, Thailand
COSMETIC USES :
Skin Care " keeps the sebum levels for all skin types; soothes itching and irritation; regulates sebum secretion for oily skin with acne; reduces expression lines. " The most : antioxidant (comparable activity to that of Vitamin E).
Source : Fabienne Millet, PharmD
Remember to check the precautions before using essential oils.