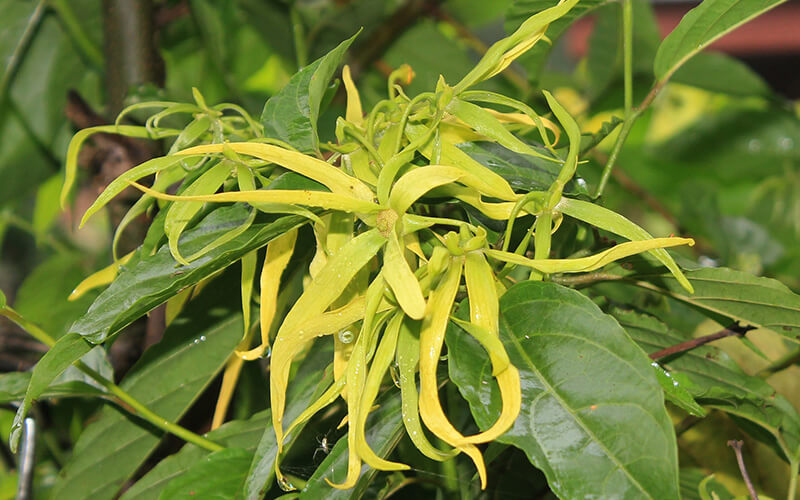 Essential Oil of the Month: Ylang Ylang Complete (2nd part)
FLIGHT SENSUELLE :
In the islands, it is rumored that a friction 2 to 3 drops of essential oil of ylang-ylang * to kidney hollow awakens the amorous ardor!
* it is recommended to dilute it in vegetable oil (10 to 20%).
Source: Ylang Ylang, Mayotte, the island ylang Marie Céline & amp; Yves Moatty
SYRUP A FRAGRANCE YLANG YLANG :
Recipe Valerie Cupillard, Cooking with essential oils and floral waters :
To flavor fruit salads and cocktails, a dessert spoon or sorbet. 1 drop of essential oil ylang ylang complete for 1 tablespoon of agave syrup. With the pure essential oil, one drop too many and the heady scent of ylang-ylang invades preparation. A diluted solution is easier to adjust. Prepare a flavored syrup by mixing as many drops of essential oil of ylang-ylang that tablespoons agave syrup.
VARIOUS OF ESSENTIAL OILS YLANG YLANG (Cananga odorata) :
The essential oil of ylang-ylang extra: top fraction of the first two hours of distillation. It is the most developed scent, so especially for perfumery. The essential oil of ylang-ylang first: fraction obtained one hour after extra. Used in aromatherapy and perfume. The essential oil of ylang-ylang complete All fractions obtained after the total distillation. It is preferred during treatments in aromatherapy.
Remember to check the precautions before using essential oils.