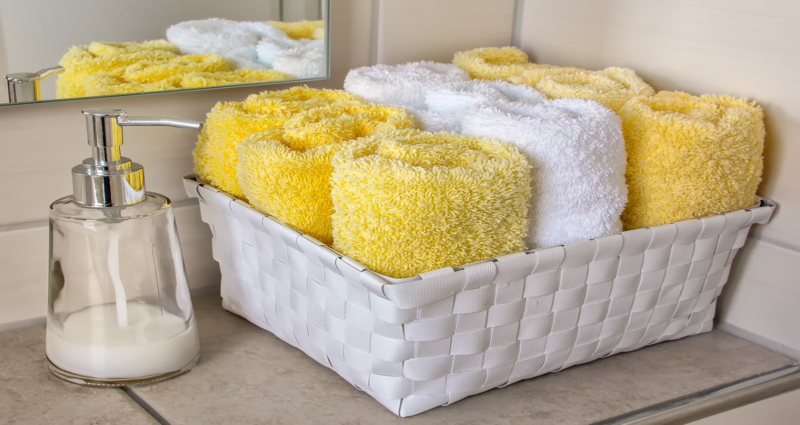 Make your organic homemade liquid hand soap
Florame reveals a recipe to make your homemade liquid hand soap. Make your diy liquid hand wash in a snapping of fingers, a little elbow grease is enough to manufacture your liquid hand soap. In your spare time, you come up with creative ideas, you are in fond of manual and creative activities ? So make a liquid hand wash against bacteria and germs and indulge yourself enjoying a fun and rewarding activity that consists in formulating a natural and organic soap. Liquid hand soaps sold in supermarkets are full of unhealthy substances such as sodium lauryl sulfate which are part of the washing base.
These are inexpensive, non-biodegradable surfactants generate foam but are fiercly debated. Why would not you make your own natural liquid hand soap with organic essential oils? Please note that not all essential oils are suitable for homemade making : for instance peppermint essential oil, which is too irritating for children and pregnant women should be avoided. If you want to opt for a zero waste solution, a green and eco-friendly alternative: you can fill your dispensers with your homemade liquid soap rather than buying ultra-wrapped refills. If you do not have a contraindication, add a few drops of an essential oil to pamper your hands for your DIY homemade recipe (rosewood, lavender, lemon).
Recipe to make liquid diy hand soap
Ingredients to make a homemade and organic liquid hand soap :
– About 20 g of Marseille or Aleppo soap.
– 300 milliliters of water.
– 200 ml of floral water (rose, geranium, rosemary, orange blossom …)
– 2 tablespoons of vegetable oil : avocado, coconut, jojoba, macadamia, almond,
– 5 drops of essential oil.
– For a hand wash that smells good: geranium essential oil, cinnamon, mandarin, ylang-ylang, patchouli, bergamot, lavender can be added…
– For an antibacterial and disinfectant hands wash : tea tree oil, essential oil of ravintsara, camphor leaf, lavender essential oil may be added…
– One bottle or several small bottles equipped with a pump.
Homemade organic liquid soap making recipe steps
Moisturize your hands naturally while cleaning them with this homemade hand wash recipe. You will take pleasure in using a product that you have made on your own.
1. Use a grater, form chips with the soap.
2. In a saucepan, boil water.
3. After boiling, put the soap in the water in order to melt and liquefy it.
4. Add the essential oil drops.
5. Wait for the oils to mix and add your vegetable oil.
6. Stir vigorously to obtain a homogeneous substance.
7. Pour your diy hands liquid soap into a bottle.
You can slightly increase the vegetable oil dosage of the recipe if your hands are very dry for a moisturizing liquid hand soap ! With this homemade and organic liquid hand soap recipe, wash your hands will no longer be a chore but a real moment of relaxation.
Precautions: when you make your homemade and organic soap do not exceed indicated doses.
Hygiene gestures for washing hands with liquid soap.
Press the pump with your elbows to avoid contaminating the bottle. Spread the homemade liquid wash on both palms, insist on the nails. To wash your hands with homemade liquid hand soap count at least 20 seconds, lingering on the knuckles. A quick rinse is enough to remove soiling.
OUR ORGANIC LIQUID HAND SOAPS
Discover our liquid hand wash, wash in 500ml format. Our soaps are the result of our expertise, know-how and traditions of the Master Soaps makers, they are made matching the traditional method, that is to say cooked in a cauldron to preserve their properties. Formulated with organic essential oils, they respect the skin and cleanse and wash gently. Organic, they are colored by natural ingredients among others: caramel, buriti oil …
Cleanser with organic sanitizing essential oils (tea trea, lemon) with antibacterial power >
Organic soap with lavender essential oil for a moment of escape in Provence >
Refreshing organic hand cleaner with Buriti oil, scented with Mandarin-Grapefruit >
Verbena stimulating and toning organic cleanser >
Liquid cleaner with organic essential oils of Almond and Atlas Cedar >
In which situations is it absolutely necessary to wash your hands?
To contain the spread of bacteria and other microbes responsible for viral infections, do not deviate from hand washing. Washing them with a liquid soap is more hygienic than with a solid soap which can be a carrier, vector of pathogens and a little dust collector.
Summary reminder of situations where washing is compulsory:
After a sneeze.
After taking public transportation.
When we come home from shopping.
After going to the bathroom.
When you have touched a door handle.
Contact with change
Before cooking and touching food.