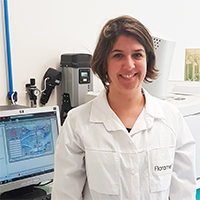 5 questions to Catherine Caillet, Head quality Florame
Ensuring quality and traceability of our essential oils and raw materials is at the heart of our concerns. All employees working in this direction. Meet Catherine Caillet, the quality manager Florame.
1. Since when have you been with Florame?
Catherine Caillet: "I took the position of Quality Manager in May 2015. My integration was rather fast, since Florame is a human-sized company, allowing to network easily and all employees strive to maintain a team spirit and a good working atmosphere. The quality department consisted of two people on my arrival, then a third person has joined the service end of 2015.
2. What is the role of quality manager?
Catherine Caillet: 'The Quality Manager must ensure compliance with legislation, whether French or European, and internal procedures in place to ensure the placing on the market of the defined specifications compliant products, and without risk to the consumer. In particular, this implies that the principles of Good Manufacturing Practices (GMP) cosmetics within the company, one of whose key components is the traceability know at any time what batches of raw materials that make up some cosmetic. The main rules of B.P.F. cosmetics also include, among others, to perform the control of raw materials, packaging materials and finished products (quality control) and provide confidence in product quality (quality assurance) through compliance with procedures during manufacturing (trained personnel, premises and adapted production equipment, documentation available, data recording, etc.). My typical day consists mainly to perform tasks such as
– The control of raw materials essential oils and vegetable oils. I ensure the compliance of analytical laboratory results on batches of raw materials,
– Control of finished products manufactured in-house or in French subcontractors and associated documentation. For example, ensure compliance with Good Manufacturing Practices, or that the volume of each finished product comply with the law,
– I ensure compliance with internal procedures throughout the manufacturing process and to its shipment to the consumer or retailer,
– The update of internal procedures (quality system) to precisely describe all the activities ensuring compliance with legislation and internal quality criteria Florame .
– Managing differences from procedures (customer complaints managements, managements differences that arise internally during manufacturing, controls, etc.) with share placement to avoid the repetition of these gaps The days in service quality are met! '
3. What types of checks are performed on Florame products?
Catherine Caillet: 'On all the raw materials we take delivery, an organoleptic control is carried out (color, odor, texture). We attach great importance to these controls, particularly the olfactory control of essential oils, and can refuse certain lots following a scent not corresponding to quality criteria Florame.
For Essential Oils: physicochemical tests are performed on the density, the index of reduction, the optical rotation . The results from these tests give us information about the quality of the essential oil. An essential oil is a mixture of dozens of molecules, we conduct analysis by gas chromatography (GC) to characterize the molecules present in the essential oil and the contents of each molecule.
For vegetable oils, we perform an organoleptic control, measure the density and the peroxide, which reflects the degree. For cosmetic products such as shower gels, shampoos, creams etc., viscosity, density, pH and organoleptic tests are measured. For products containing water, we ensure microbiological cleanliness controlling microorganisms (mesophilic aerobic bacteria and yeasts/molds). For each test are attached specifications. When testing the product, if the result is not within specification (outside the range), then the result is non-compliant and the raw material can, therefore, be denied. '